WE AT THE CLUB WISH YOU ALL A VERY HAPPY NEW YEAR 2019
A 50TH YEAR 2019/2020
EOSFA  IMAGE PRINTERS CUP FINAL WINNING TEAM
All club policies drop down  on Committee to read
CHILD WELLFARE:
The club is committed to the health and safety and wellbeing of ALL Children associated with our organisation
ANYONE with any concerns which compromises this or indeed any concerns with regards to any inappropriate behaviour by any adult to any child should contact the child wellbeing protection officer
CHILD WELLBEING AND POLICIES INFORMATION
All information regarding safeguarding policies can be found here,  https://www.hutchisonvale.com/download-category/lthv-policies/
Contact for: Child wellbeing protection officer, Les Trotter 07852557406 lesflotrotter@hotmail.co.uk
Or alternatively  contact: Club leader Tam Smith, 07793315997           thomasgordonsmith@gmail.com
Thomas Allison 07730256783
tom@LTHV .CO.UK
For additional information please see SFA [link below ]
https://www.scottishfa.co.uk/scottish-fa/football-governance/childrens-rights-wellbeing/
To be reviewed every 6 month,
November 2018 
Central Taxis Conference B Dunipace 1-3 Lothian Thistle Hutchison Vale After going 1 down goals from Dylan and James Hainey And Connor maCregor second half goal saw us with another away win .We had a few chances and the post helped the home team keep the score down
Lothian Thistle HV 1-3 Bonnyrigg Rose Lost out today to the league leaders. A first half Scott Gormley goal gave a little hope. We had new signings but still a few out injured, we will try very hard to get our form back asap. A photo for Jack Hughes at today's game.
@CentralTaxisEd East of Scotland league Section B @lthvf V @BonnyriggRose SAT 20TH OCT 2.30 PM KO SAUGHTON ENCLOSURE ADULTS 5.00 CON S / CHILDREN 3.00 BEST VALUE IN TOWN COME AND SUPPORT YOUR TEAM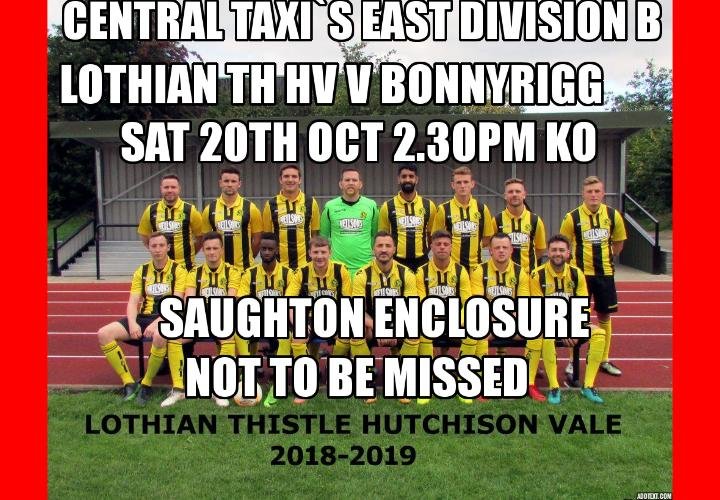 Claire Allison would like to thank the following people for their kind donations for our Raffle  in our fun few hours for Cancer Research UK.
A big thank you to Experience day for their kind donation of a £50 gift voucher for an amazing experience of your choice. click on link below to take you to their website.
https://www.experiencedays.co.uk/
Wednesday, 3 October 2018 Central Taxis Conference B
Lothian Thistle HV v. Burntisland
Saughton enclosure 7l30pm KO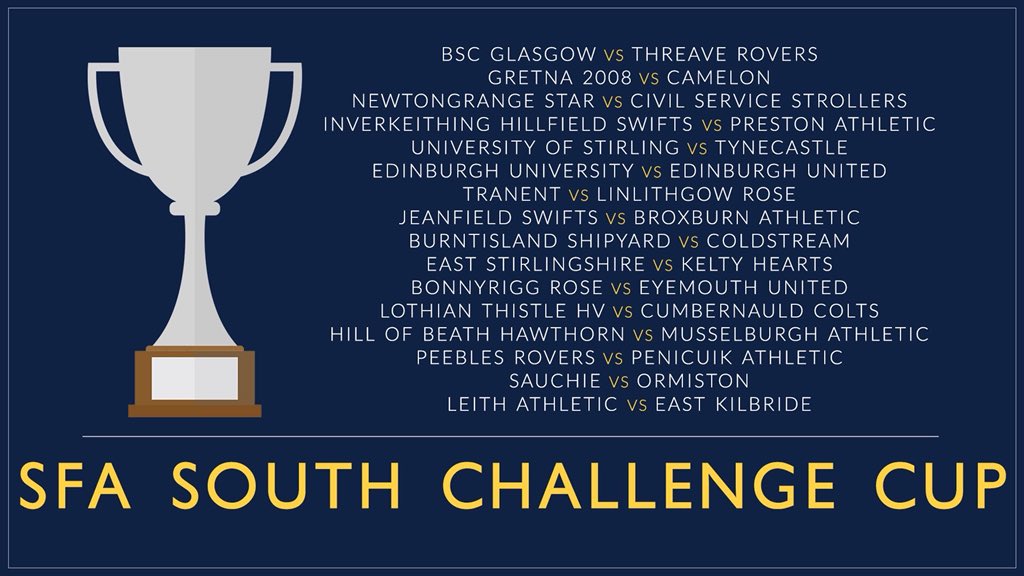 https://t.co/ykAMyG0IZK
DUNDONALD MATCH RREPORT
PHOTO S
https://t.co/pd7y7fVDx1
Non-league coverage in today's @scotsunsport with @BeithJuniorsFC v @lthvf in @ScottishCup plus Highland, Lowland, Juniors & East of Scotland latest. pic.twitter.com/oAn70TMYs0

— Scott Campbell (@scottcam67) September 2, 2018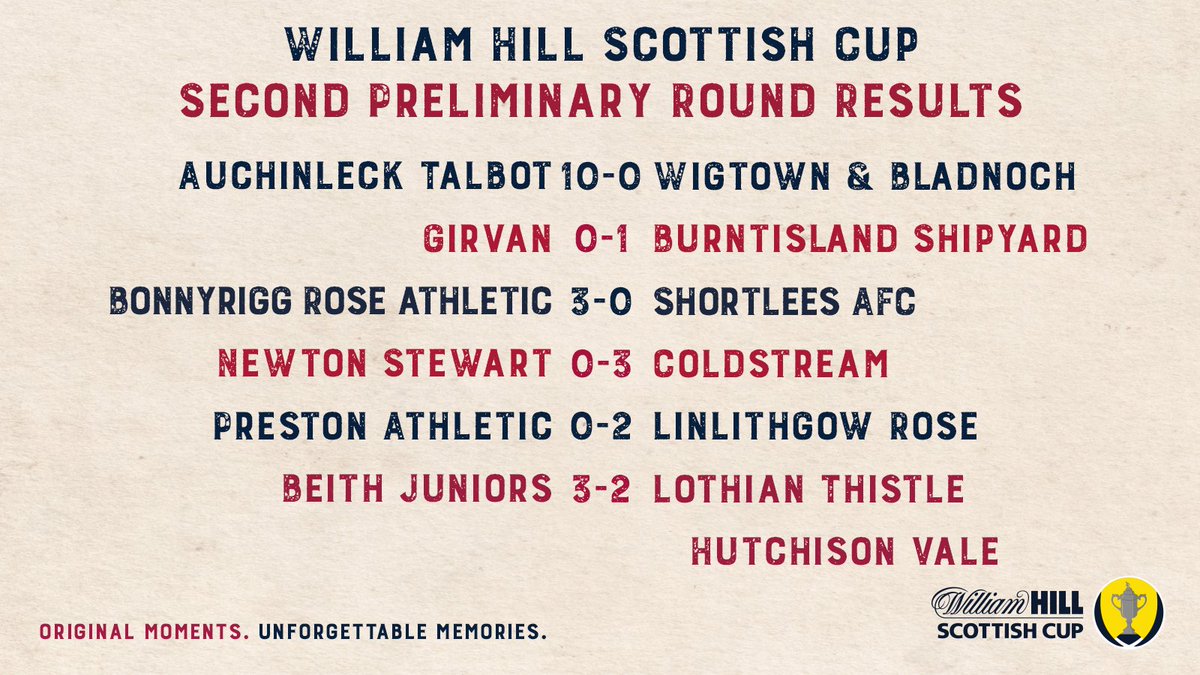 Lothian Thistle Hutchison Vale have become the 90th official member club of the Scottish FA
1
st Round
Lothian Thistle Hutchison Vale vs. Jeanfield Swifts
Crossgates Primrose or Dunipace vs. Camelon Juniors
Bonnyrigg Rose Athletic vs. Blackburn United or Haddington Athletic
Easthouses Lily MW or. Dunbar United vs. Broxburn Athleti
Tranent Juniors vs. St Andrew's United
Newtongrange Star vs. Bo'ness United or Tynecastle
Dalkeith Thistle vs. Penicuik Athletic
Musselburgh Athletic vs. Hill of Beath Hawthorn or Edinburgh United
https://t.co/WoLT8NsNRe
I am pleased to confirm the results for the First and Second Preliminary Round draws of the 2018-19 William Hill Scottish Cup, which were made earlier today at Hampden Park.
First Preliminary Round
Hawick Royal Albert v. Bonnyrigg Rose Athletic
Tynecastle v. Shortlees AFC
Golspie Sutherland v. Burntisland Shipyard
Auchinleck Talbot v. Banks O' Dee
Coldstream v. St. Cuthbert Wanderers
Preston Athletic v. Glasgow University
Threave Rovers v. Beith Juniors
Byes:
Girvan
Linlithgow Rose
Lothian Thistle Hutchison Vale
Newton Stewart
Wigtown & Bladnoch
Ties in the First Preliminary Round are scheduled to be played on Saturday 11 August 2018, and participating clubs are requested to provide the Scottish FA with confirmed Preliminary Round match information (including postponements and replays) – using the template document attached – by Friday 27 July at the very latest.
Second Preliminary Round
Girvan v. Golspie Sutherland or Burntisland Shipyard
Newton Stewart v. Coldstream or St. Cuthbert Wanderers
Auchinleck Talbot or Banks O' Dee v. Wigtown & Bladnoch
Hawick Royal Albert or Bonnyrigg Rose Athletic v. Tynecastle or Shortlees AFC
Preston Athletic or Glasgow University v. Linlithgow Rose
Threave Rovers or Beith Juniors v. Lothian Thistle Hutchison Vale
Ties in the Second Preliminary Round are scheduled to be played on Saturday 1 September 2018.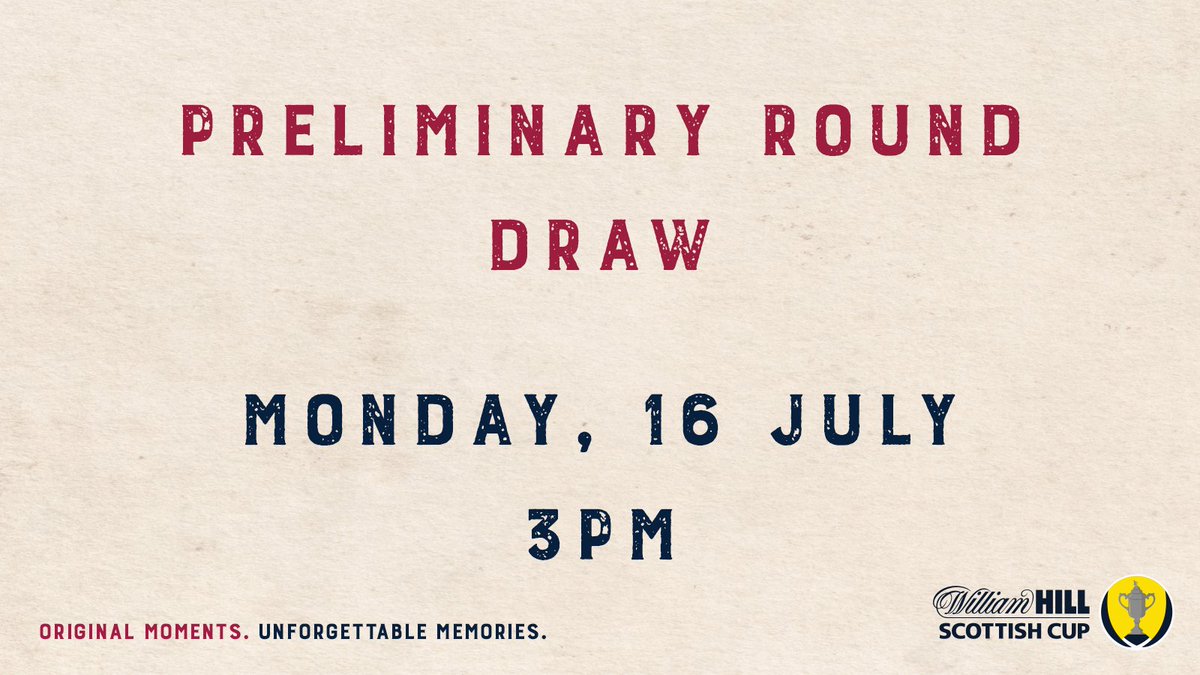 #
ALL CLUB MEMBERS PLEASE  NOTE
Social Media Policy Internet and mobile based social networking sites such as Facebook, Twitter, MySpace, Bebo, Blackberry Messenger, MSN, Live Profile, Android, Instagram, WhatsApp, Snapchat and any such similar currently existing or future existing sites, as well as the recent phenomenon of 'Blogging' (writing an online and public diary) have become increasingly popular and the League is keen to ensure that its Officials, Members and Staff etc. remain protected in what is a very open and public way of sharing information and images across the internet. The League acknowledges that blogs and social networking sites provide individuals with a way of sharing their insights, expressing their opinions and communicating in a global environment. When you choose to go public with your opinions however through a blog, social networking site or other openly accessible medium, you are legally responsible for those opinions. You should therefore be aware that you can be held personally responsible for any commentary deemed to be defamatory, obscene, discriminatory, proprietary or libellous. For these reasons, you need to exercise caution with regard to any derogatory, discriminatory or bullying remarks or characterisations, copyrighted materials, exaggeration or obscenity. In essence, what you post to the internet is at your own risk and other parties can pursue legal action against you personally for postings. To avoid any problems or potential disciplinary action, the League recommends that Club Officials, players, etc. remember a number of guidelines, which are listed below, when using social media: 1. Avoid commenting on matters relating to referees. 2. Avoid making instant comment. 3. Avoid being critical of those who hold positions of authority within football. 4. Others may publish any comments made by you without your consent, as blogging is considered to be in the public domain. 5. Be completely certain of the accuracy/legitimacy of what you are saying. 6. If you are unsure whether a post may be controversial then don't post it. 7. Anything said online – whether good, bad or indifferent – reflects upon you and possibly your Club and the League and may impact upon its reputation. 8. Any comment or photo you put out makes an indelible impression online – you might think you have deleted it, but it will be recorded and remain accessible. Finally, Social Media can be a great way to keep in touch with other Clubs, fans, fellow players and friends and to raise the both the League's and your Club's profile. 24 Reserves Policy The East of Scotland Football League is an unincorporated body comprising a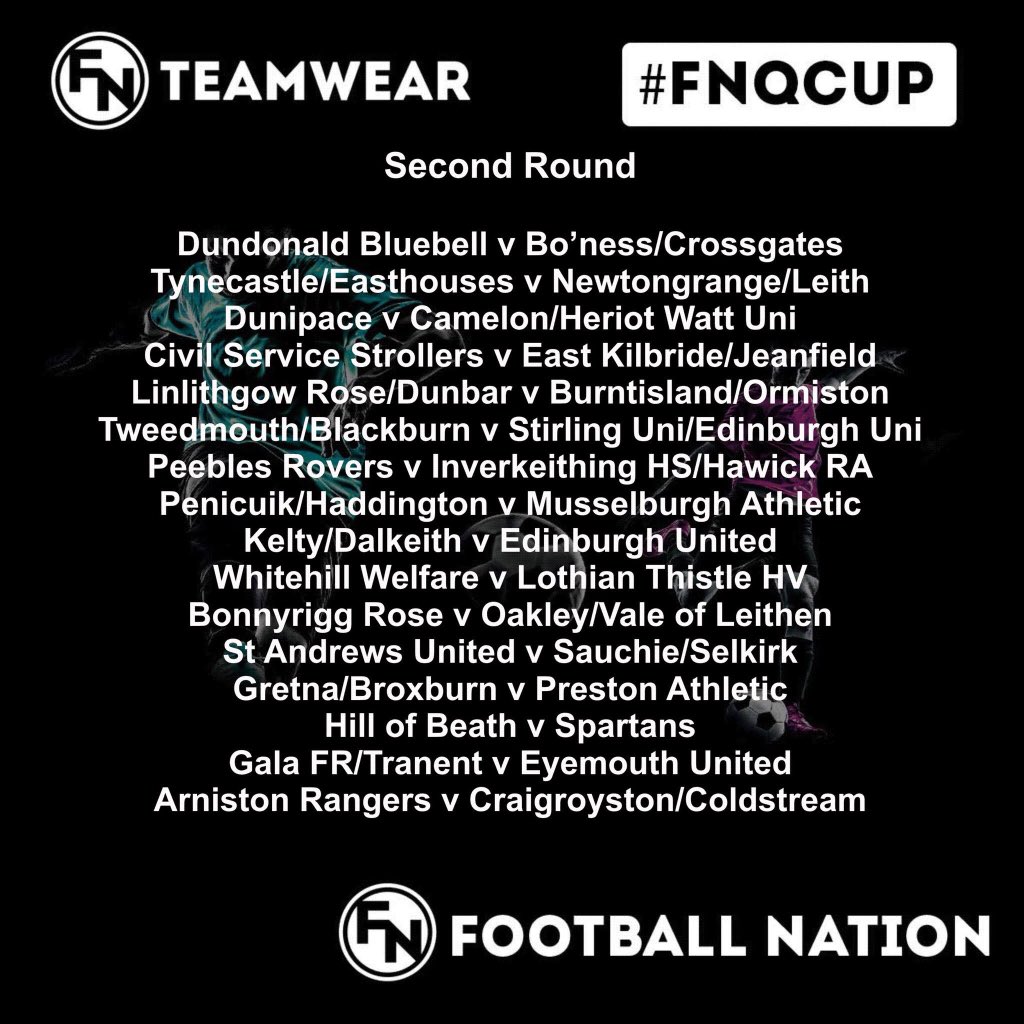 https://t.co/v5Rbmr3rad
THE WILLIAM HILL GOAL OF THE SCOTTISH CUP
WELL DONE SAM THE MAN
https://www.facebook.com/photo.php?fbid=10209206313673177&set=pcb.1879900405354548&type=3&ifg=1
Lothian Thistle Hutchison Vale F.C. vs. Leith Athletic FC on 14/04/2018 Lothian Thistle Hutchison Vale F.C. v Leith Athletic FC East of Scotland League Ainslie Park Spartans g4 Sat 14-Apr-2018 KO 12 NOON
https://t.co/l3RPxUguq5
 The club would like to thank one of our coaches Tony Begg who is leaving for another club.We only can say thank you Tony for your help in the development of our players and also a man who had time for all at the club five star man .Good luck
EAST OF SCOTLAND CENTRAL TAXI`S LEAGUE
LOTHIAN THISTLE HUTCHISON VALE V TWEEDMOUTH RANGERS
SAT 16TH DEC 3PM KO
LAST HOME GAME OF 2017 (WHAT A YEAR )
LET`S SEE A GOOD TURN OUT FOR THE LAD`S
Wednesday, 29 November 2017
Football Nation Qualifying Cup
Stirling Uni. 0 v.3 Lothian Thistle Hutchison Vale
FT GOALS JAMIE DEVLIN LOUIS SWANSON GRANT MUNRO HAWICK RA AT HOME SAT 2.3-KO
FNC WED 29TH NOV FALKIRK STADIUM
7.45PM KO
Check out match reports up to date page
THOUGHTS AFTER SATURDAY against St Mirren
Tidy up
To our players and coaching team
You all have done the club proud again you have climbed heights that most would have thought impossible. In the Scottish Cup. You produced some great results and showed resilience and don't underestimate the win over Inverurie who on Saturday climbed to 2nd in the Highland league. To play a full time team who on the day were top of their League with current under 21 Internationals at Saughton Enclosure was a dream come true OK it was tuff going in the first half but Sean's goal after half time cheered everyone up and you all showed true ability and could have scored more goals. We still have much to play for with two big cup ties coming up in the next 8 days Glasgow and Stirling University's
SATURDAY SAUGHTON AND THE DAY
I can't thank everyone enough for all the hard work which was done behind the scenes at the club house preparing food taking the tickets. The work Tam Smith put in was amazing so a special thanks to him for coordinating everything. There were many other people who put in a power of work Les selling the tickets dealing with requests from the press and other clubs and the programme Willie, Chris, Steven too many to cover and also the special work that was done on getting the playing surface in fine condition to play with Dougie D on at halftime fixing divits! Thank you all for making the day go well.
SAUGHTON ENCLOSURE FACILITIES
Many could see the club has improved the dressing room area and made a medical room. The toilet block has now been in working order and tea, coffee and on Saturday the Great football Bovril were on sale. Plans are in place for work for a covered enclosure to take the club to the next stage in the quest for a licence.
Thank you to new sponsors, but it would be good if all the players had sponsor at the moment only 7 are sponsored. We are always looking for more whether it be player sponsorship or pitch side banners. There will be some big home games coming up with us to play Kelty at least twice at Saughton (League Cup semi final and league) and we are at home the ground hopper weekend where we would expect a big crowd.
Anyone interested Contact the club on Willie Randall 07725743891 or me Tom Allison 07730256783
Thank You.
HIGHLIGHT AND RIGHT CLICK TO OPEN
https://t.co/9kHyFppGUA
https://t.co/9kHyFppGUA
WATCH
A potential #ScottishCup upset? Amateur side @lthvf welcome Championship leaders @saintmirrenfc to Saughton. https://t.co/xRk4izrzCl

— Sky Sports Scotland (@ScotlandSky) November 17, 2017
Lothian Thistle have been enjoying a dream season so far, undefeated in all competitions, but they notched up their biggest success to date as they stunned League 2 leaders Stirling Albion with a 5-3 win at Forthbank in the William Hill Scottish Cup second round.
The East of Scotland champions – no stranger to matching teams from higher leagues – were deserved winners in Stirlingshire on Saturday with a result that surely surpasses their victory in this competition over Montrose two years ago when they won a replay away from home.
The club will now welcome current Championship league leaders St Mirren to Saughton Enclosure – pending SFA approval – on Saturday, November 18 in a dream third-round tie.
Lothian actually got off to the worst possible start when Albion captain Darren Smith gave the hosts a sixth-minute lead, rounding goalkeeper Kevin Swain to squeeze the ball home from a tight angle.
However, the visitors regrouped and were level just four minutes later when striker Sean Wringe's first-time effort came crashing off the underside off the bar and Willis Hare was in the right place at the right time to lash the rebound high into the net.
Wringe wasn't to be denied, though, as his well-placed header from a Kevin Brown delivery had the underdogs ahead after just a quarter of an hour.
Despite the size of the task facing Rayond Carr's men prior to kick off, the manager wasn't surprised by his players' response after going a goal down.
"That's how we play every week. We don't go anywhere to sit back and defend and if you've got players all over the park who can score goals then that stands you in good stead," he said. "These are the calibre of games the boys want to play in and maybe Stirling got a bit of a shock the way we came back."
The home supporters' frustration became more vocal as Lothian continued to carve out chance after chance, Tony Muir shooting straight at Mark Foden before the midfielder headed just wide of the Albion No.1's right-hand post.
Wringe sent the small band of travelling Lothian fans into raptures two minutes after the interval, glancing in Louis Swanson's pinpoint cross before the 25-year-old came within inches of completing his hat-trick having seen his shot on the turn come back off the post.
Jamie Devlin's energy caused the Albion defence problems all afternoon and when the striker was upended in the penalty box by Sean Dickson, the visitors could sense victory was within their grasp. Swanson duly converted from 12 yards to put Lothian 4-1 ahead with just 65 minutes on the clock.
Three minutes later Devlin deservedly got on the scoresheet himself, capitalising on Foden's error to knock in the loose ball.
Peter MacDonald and Scott Davidson efforts in the final ten minutes couldn't take the shine off a memorable 90 minutes for those in yellow and black.
"It's the biggest scalp we've had during my time with the club," Carr said. "I did think the game would be a lot closer and if we were going to win it then it would be just that wee bit of luck. But we played exceptionally well and deserved to win."
Wringe, who took his goal tally to 20 for the season, said: "When they went 1-0 up so early you say to yourself 'oh no' but the mentality of the team is unbelievable and we should have won by more to be honest. We showed we are more than capable of competing at a higher level. I've scored in cup finals before but to score a double in the Scottish Cup just tops the lot."
Stirling Albion: Foden, McGeachie, Noble, McNeil, Davidson (Cameron 84), Black, Caddis (MacDonald 54), McLaughlin, Smith, Kavanagh, Dickson. Subs: Binnie, Smith, Banner, McMullan.
Lothian Thistle Hutchison Vale: Swain, Sherlock, O'Donnell, Crawford, Munro, Muir, Hare (Moore 63), Brown, Wringe (Nhamburo 70), Devlin, Swanson (Mungall 88). Subs: Robertson, Hutchison, Simpson, Easton.
Referee: R Milne.
Attendance: 521.
Lothian Thistle Hutchison Vale striker Sam Nhamburo has won the William Hill Scottish Cup 'Goal of the First Round' award.
The youngster's blistering half-volley sealed a 3-2 victory over Highland League outfit Inverurie Loco Works to secure the East of Scotland League champions a second-round clash with League Two leaders Stirling Albion at Forthbank tomorrow.
The results are in! Congratulations to @lthvf's Samuel Nhamburo who has won the @WilliamHill #ScottishCup Goal of the First Round. 
Sam's goal was the second last-gasp winner he'd produced in this season's competition having come off the bench to score in a preliminary round one victory at Kelty Hearts in August.
Nhamburo. who was born in Zimbabwe before moving to Scotland with his family almost a decade ago, said after his goal: "I knew it was going in as soon as I hit it. I think I should be getting a call-up for Zimbabwe! This is the biggest competition we play in so that's our motivation to keep going."
https://twitter.com/ScottishCup/status/918464473542873094
SHOW RACISM THE RED CARD – FORTNIGHT OF ACTION 6TH OCT
Welcome to Show Racism the Red Card's annual Fortnight of Action. Many of you will have seen the campaign within football for many years; the Scottish FA, SPFL,EOSFL, SJFA and its member clubs have been supporting the campaign since it started in Scotland.
In addition to increasing the awareness of SRtRC's work in Scotland, the Fortnight of Action from 6th – 20thOctober shows commitment at the highest level of Scottish football to eradicate racism and discrimination of any form from our game.
We believe that it is vital to highlight the anti-racism message at this time of year as it runs alongside Football Against Racism in Europe's (FARE) Football People Weeks.
All professional clubs will show their support over one weekend on Friday 13th October and Saturday 14thOctober. Clubs will be united in calling for an end to racism in football and society. Players in over 40 European Countries are involved in similar events as part of FARE network against racism and discrimination.
Show Racism the Red Card has received excellent support from football clubs, football authorities and football fans the length and breadth of Scotland – we would like to take this opportunity to thank you all. We have heard of many instances where supporters have been proactive in promoting the anti-racism message, making it clear that racism and discrimination are not welcome at their club. We urge fans to continue to support the anti-racism message; it is the responsibility of us all to ensure that it is carried out beyond the Fortnight of Action and beyond the terraces.
Neil Doncaster, Chief Executive of the SPFL said "Football is a powerful medium to break down barriers and promote tolerance. Our clubs have supported Show Racism the Red Card since season 2003/04 and once again, this united action in support of the campaign sends out the positive message that football is a game to be enjoyed by all."
Lothian Thistle Hutchison Vale cc stands all square with this important initiative. Our William Hill Scottish Cup game at Forthbank  V Stirling Albion FC on 14 October will be the main focus, however as a Club we are committed to zero tolerance on this matter at all times.
The campaign will continue to speak to all football clubs, the football authorities and the police to eradicate all forms of racist behaviour.
The Scottish FA, SPFL, EOSFL.SJFA and its clubs deplore all forms of racism and any racist behaviour will not be tolerated at Scottish FA, SPFL EOSFL .or SJFA matches.
Over the past year Show Racism the Red Card has faced major funding difficulties but we strive to continue our work. We are working with grassroots football, community groups, schools, the police and prison service to ensure that going forward Scottish society and Scottish football is fair and inclusive for all
https://t.co/9sw0fIA63A
Our new highlights show with all the action from the First Round of the @WilliamHill #ScottishCup is now available: https://t.co/JqL84HThsL

— William Hill Scottish Cup (@ScottishCup) September 24, 2017
WE CAN LOOK FORWARD TO PLAYING IN THE WILLIAM HILL SCOTTISH CUP ONCE AGAIN NOTHING CAN BEAT THIS CUP
SEASON START S 29TH JULY
July 2017
Sat. 29. 2.30pm Qualifying League Section A 
Heriot Watt University-0-3 Lothian Thistle Hutchison Vale
13TH OF MAY SATURDAY
CENTRAL TAXI`S LEAGUE
LOTHIAN THISTLE HUTCHISON VALE 3 LEITH ATH 2 SEAN WRINGE 2 JAMIE DEVLIN
OUR THIRD LEAGUE TITLE IN FOUR YEARS .WELL DONE LADS CREDIT TO THE CLUB
SOUTH EAST SHIELD FINAL 2017
Lochar Thistle FC 1 Lothian Thistle Hutchison Vale F.C. 6
South & East Cup Winners S hield Final
JAMIE DEVLIN 2 TONY MUIR KEVIN BROWN SEAN WRINGE SCOT TAYLOR MACKENZIE
EAST OF SCOTLAND CUP FINAL
EDINBURGH CITY 1 LOTHIAN THISTLE HUTCHISON VALE 2
JAMIE DEVLIN WILLIS  HARE
Football Nation Qualifying Cup Final
Spartans 2  Lothian Thistle Hutchison Vale 1
John Sherlock.
THE EAST OF SCOTLAND CUP SEMI FINAL
Lothian Thistle Hutchison Vale 2 Berwick Rangers 0
SEAN WRINGE SCOTT TAYLOR MACKENZIE
TO NIGHTS TEAM PHOTO
Football Nation Qualifying Cup Final
Spartans v Lothian Thistle Hutchison Vale
Sunday 19 March 2017, 3.30pm KO
This match will be played at Oriam, Riccarton, Edinburgh on the indoor synthetic pitch .Another first for the Club a Men`s Senior cup Final played indoors in Scotland for the first time .
LOTHIAN THISTLE HUTCHISON VALE U20S 2017
A FIRST FOR THE EAST AND SOUTH ASSOCIATION S .
SOUTH & EAST CUP WINNERS SHIELD 
THE FINAL OF THE SOUTH AND EAST CUP WINNERS SHIELD
The winners of a play-off match between the East of Scotland
F.A.'s Alex Jack Cup holders and the Southern Counties F.A.'s Alba Cup holders.
This play-off has now been arranged for Saturday 29 April at New King Edward Park,
Lockerbie with a 3pm kick off. The winners of the match, between Lothian Thistle
Hutchison Vale and Lochar Thistle will be awarded the South & East Cup Winners Shield.
ALEC JACK CUP WINNERS 2016
TYNECASTLE FC 1 LOTHIAN THISTLE HUTCHISON VALE 3
SCORERS JAMIE DEVLIN , LIAM O`DONNELL . KEVIN BROWN
Dear Football Club Supporter:
The Lothian Hutchison Vale are preparing for the 2016/2017 season in the East of Scotland  League and The Under 20s Lowland east League.  We are currently seeking individual player sponsorships to offset some of the costs associated with providing a successful and enjoyable season for our players, and we would greatly appreciate your support.  Sponsorship is £75.00 per player , Coaches ,Committee.
In exchange for your generosity, the name of your Company or organization will be displayed on our official Team Programme Club ,Information,Players Training Tops  and you will also receive special recognition on our Team's page on our website at www.lothanthistlefc.co.uk & www.hutchisonvale.com which draws viewers from all across Scotland GB ., as well as and beyond.  Consequently, not only will your sponsorship enhance the game of Football for our Players, but you will receive valuable advertising for your business.  Specifically, your sponsorship funds will assist with the purchase of Tops Training Equipment and ground and Training  and tournament expenses, including registration in local tournaments.
Thank you very much for considering this sponsorship opportunity.  Should you have any questions about sponsorship, or our Team in general, please do not hesitate to contact Mr William Randall at :M.randall@blueyonder.co.uk
Sincerely, on behalf of the Lothian Hutchison Vale CC,
Mr William Randall 07725743891
Mr Tom Allison 07730256783
.Mr Tam Smith 07793315997
Welcome to Lothian Thistle Hutchison Vale's (LTHV) site. It is currently undergoing some improvements
The clubs great William Hill Scottish Cup run is over more later
The club wish to thank the Players /coaching staff/ Committee and fans
supporting us during our run  Please keep coming to support us
FOLLOW THE TEAM FOLLOW THE DREAM  2016
Tom Allison hails his history boys as Lothian Thistle Hutchison Vale march on in Scottish Cup
BY ALAN TEMPLE – @CCP_Sport
When Tom Allison founded Lothian Thistle in 1969, he never in his wildest dreams imagined that one day they would by eyeing a place in the last 16 of the Scottish Cup.
They plied their trade in front of one man and his dog on local parks in Edinburgh's Gyle area. They did not even have goal-nets for their kickabouts in the lower reaches of the Lothian Amateur League.
Forty-six years on, and the name may have changed following their 2009 merger with Hutchison Vale, but that has done nothing to dampen Allison's pride after watching his minnows from the capital make history.
The 69-year-old, now secretary and honorary chairman of Lothian Thistle Hutchison Vale (LTHV), was in attendance for Monday's 3-0 win over Huntly in the third round replay, despite a persistent chest infection. Wild dogs would not have kept him from Ainslie Park.
That triumph tees up a fourth round tie against Lowland League outfit East Kilbride Thistle – ensuring a side from out-with the SPFL will be in the last-16.
"I founded Lothian Thistle back in 1969 and was their manager back then," recalled Allison. "I was with them in the Lothian Amateur divisions, through to the Caledonian Leagues and then we came into the East of Scotland League.
"We used to go down at play at the Gyle and we didn't even have nets at that time. There were just 11 players – no substitutes – and we had our wee hold-all with water and some medical equipment. Nobody really watched!
"It's been a long journey and, if you had said 46 years ago that this is where we would be, I would have laughed you out of the room. We've come a long way.
"Monday was the biggest win we've ever had and this cup run has been historic. It has been the first time we have beaten a league team, Montrose, and the first time we have beaten the reigning Junior champions, Kelty Hearts, and now we've beaten a Highland team. We have certainly set a few benchmarks."
However, Allison is uncomfortable with the notion of taking any credit following an unforgettable evening at Ainslie Park – borrowed for the night from Edinburgh neighbours Spartans after LTHV's Saughton Enclosure home was waterlogged.
"It's not for me to take any credit for what we have achieved," he continued. "The players and staff have done a wonderful job and worked so hard to raise the bar and get to where we are. They deserve all the credit.
"I think Spartans and Whitehill are the only clubs from this area to have done this, so it is a wonderful achievement from the players and the coaches.
"We also want to thank Spartans, who allowed us to host the tie against Huntly, and all of the supporters at Ainslie Park who came out and backed us."
Hutchie
Allison believes the progress made is testament to the success of the partnership between Lothian Thistle and Hutchison Vale, with the latter's renowned boys club structure proving invaluable.
Hutchie have produced the likes of John Collins, Leigh Griffiths, Allan McGregor, Kenny Miller and Ian Murray – and Allison believes the affiliation has given the next generation an even better opportunity to make their mark.
"It has proved very successful and it was an easy decision to make," he continued. "Hutchie Vale have a terrific record of bringing through young players and give them a real chance.
"Teaming up with Lothian Thistle allows those boys a pathway to the East of Scotland League so they are playing senior, competitive football."
The challenge is now to go one step further by defeating East Kilbride and potentially setting up a tie against one of Scottish football's big guns.
Allison does, however, acknowledge that their rivals from the West will have the same idea.
He added: "In all fairness, East Kilbride will think this is a wonderful opportunity for them to reach the next round and they should be commended for their own great results. It will be a very tight match. They are a good side and it'll be a fine occasion
LTHV community club was established for the start of season 2009/10 with the coming together of successful East of Scotland club Lothian Thistle with successful youth club Hutchison Vale. LTHV take great pride in keeping both names as each club in their own right have made a lasting impressions in adult and youth football.
The club is based at Saughton Enclosure on the west side of Edinburgh and competes in the East of Scotland league since admission was granted to the East of Scotland Football Association in season 1995/96.
Senior Honours:
East of Scotland Premier Division Champions: 2013/14, 2014/15 2016/17
East of Scotland Qualifying Cup: 1997, 2015
Alex Jack Cup: 2000/01, 03/04, 05/06, 07/08 16/17
King Cup: 2003/04
The City Cup 16/17
South /East Shield 2016/2017 NEW TROPHY FIRST YEAR
East of Scotland First Division Champions: 1996/97
Season 2015/16 Management Team:
– RAYMOND CARR
– FRASER OGILVIE
– STEPHEN MCKENZIE
– BRYAN KIRK
Scottish Cup 4th Round:
EAST KILBRIDE v LOTHIAN THISTLE HUTCHISON VALE
Saturday 9th January 2016
The club will be running a supporters bus. Please contact Tom Allison to book your seat.
Scottish Cup 3rd Round:
HUNTLY v LOTHIAN THISTLE HUTCHISON VALE
3-0 win in the replay after a 1-1 draw.
Scorers: MacKenzie, Kerr and Smith
2nd Round replay:
MONTROSE FC 1 LOTHIAN THISTLE HUTCHISON VALE 2 (aet)
SCOTT GORMLEY, WILLIS HARE
2nd Round:
LOTHIAN THISTLE HUTCHISON VALE 1 MONTROSE FC 1
RICHIE WILKES
1st ROUND
LOTHIAN THISTLE HUTCHISON VALE 3 KELTY HEARTS 0
DARREN SMITH, RICHIE WILKES and JOHN ROSS KERR
Preliminary round:
DEAN CUMMINGS SCORES THE FIRST GOAL
SEASON 2015/16
LOTHIAN HAS SIGNED SCOTT GORMLEY, DYLAN MOORE AND JACK COOK.
THE REST OF LAST YEAR'S SQUAD HAS RE-SIGNED.
CENTRAL TAXIS PREMIER DIVISION WINNERS 2014/2015
IMAGE PRINTERS CUP WINNERS 2014/2015
CENTRAL TAXIS PREMIER DIVISION WINNERS 2013/ 14